Journal - Useful Info
3rd June 2019. What's the difference between silver, 9ct and 18ct gold?
Firstly, silver jewellery: I use nickel-free, solid 925 Sterling Silver in my jewelry. This means 92.5% of the alloy is pure silver. When freshly made, a silver piece looks quite naturally bright. Over time it will develop a darker patina as it oxidises/tarnishes with the air. It also reacts to certain acids, which makes it great for 'blackening' (a special effect I use to bring out the details on my pieces, that is actually a dark gunmetal grey colour). It makes wonderful dress rings, can be worn every day, and is most accessible to all budgets. However, out of all the precious metals, silver is likely to show wear the most quickly (scratches, dents), and its shape can become contorted over time.

For this reason, I usually recommend gold for wedding rings, engagement and heirloom pieces. I work in 9ct and 18ct White, Yellow and Rose Golds.
What does this mean? Pure gold, which is 24ct (or 24kt, if you're in USA/Canada) is too soft for jewellery, so it is alloyed with other metals. 18ct gold means 18 parts out of the 24 parts are pure gold, and 9ct means 9 parts out of the 24 parts are gold. The other parts include palladium, platinum, copper and other metals, depending on what colour you're after - rose, yellow or white gold. All of my gold alloys are nickel-free.

To the naked eye, the difference between a 9ct and 18ct ring isn't that noticeable unless you're holding the two next to each other. Colourwise, 9ct can have a different look to its counterpart and tends to tarnish more quickly. Also, although 9ct is harder, it is also more brittle. 18ct gold is less likely to tarnish and has a heavier, luxurious weight to it. It is more malleable and longer-lasting, which is why it's usually my alloy of choice for wedding bands. Of course the price difference between 9ct and 18ct gold will play a role when choosing your alloy. The higher the percentage of pure gold, the more expensive it will be.

So how do you choose between Silver, 9ct or 18ct Gold? I always recommend opting for the best your budget will allow. Regardless of which you choose, you can be assured that I only use the highest quality, solid Sterling Silver and Gold. There is no filling or plating of my pieces (except for special effects as I mentioned before). My belief, which I always like to remind my customers of, is that it's the personal story and emotional meaning behind a custom-made piece that gives your piece its significance, not its price tag.
If you'd like to discuss this further or find out more about the cost of a custom-made piece, don't hesitate to message through the contact page or by emailing clara[@]burtonmetaldepository.com.
1st June 2019. The Wearing of a Ring
I've had a lot of questions about how a 'blackened' ring wears (these are Sterling Silver pieces with a gunmetal grey finish applied over the top). So we're very happy to show you this video we made with our good friend and customer J.V.
Take a look and let us know what you think!

1st May 2019. Wedding Details
Our first ever wedding fair is coming up in Melbourne, and we are so excited to be presenting a range of rings, cufflinks and other designs which can all be personalised to mark your special moment. Visit us at One Fine Day Wedding Fair on Saturday 25th & Sunday 26th May at The Royal Exhibition Building, Carlton. More info and tickets available here.
12th January 2019. We Are On The Move!
Our Foley Street home is now closed as we have embarked on our adventures for 2018! Read more about this below.
We'd love to continue sharing our adventures with you. Join our mailing list or follow us through Instagram to discover when our new studio opens and next collection premiers. In the meantime, we are still accepting orders through our online store and as always, Clara is happy to chat to you about any jewellery queries you may have.
To get in touch, email Clara at contact@burtonmetaldepository.com or call +61 402 858 828 Monday - Friday 11am - 5.30pm, or Saturday 12 - 3pm.
14th Dec 2018. Our Holiday Hours 2018-19
Save time and stress less this Christmas! We cannot guarantee delivery for Christmas for orders placed after Dec 14th. However, you're welcome to order an item online and collect it from our studio-store in leafy Darlinghurst, Sydney. Enter the code COLLECT at checkout so you're not charged for shipping. Clara will email you when it's ready to collect. We also have a selection of ready-made pieces in the shop that you can browse.
Our extended trading and holiday hours:
Until Dec 18th: usual trading hours
Dec 19th - 21st: Open 12pm - 7pm
Dec 22nd - 23rd: Open 10am - 5pm
Dec 24th: Open 9am - 2pm
Dec 25th - 26th: Closed
Dec 27th - 30th: Open 12 - 4pm or by appointment*
Dec 31st - Jan 2nd: Closed
Jan 3rd - 6th: Open 12 - 4pm or by appointment *
Sunday January 6th: Last day of trading on Foley Street
*to make an appointment, email hello@contact@burtonmetaldepository.com
14th Dec 2018. We've Got Exciting News for 2019!
Well, this year has been challenging ...
Recently though, my universe rearranged itself in the most spontaneous and magical way, and I now have the opportunity to explore the world in 2019 and reconnect with the creativity that gave life to my two businesses in the first place! I'll be swapping price tags and paperwork for engaging and focusing on creative work. And I'd love to invite you to stay on the journey with me here.
My trusty stead (aka jewellery bench), will always be nearby, so I'll continue to design and make my creations. I'm still in the midst of Christmas rush orders and booked through to February, so if you have something in progress with me, it will be coming! My first stop is picturesque Hobart, Tasmania, so expect a postmark and a breath of fresh air from the Apple Isle with your order next year ;)
My studio-shop on Foley Street, Darlinghurst, will continue to be open most days throughout the holiday season until January 6th. Check the website for opening hours and pop by to say hello if you're around.
In the meantime you can always contact me in all the usual onscreen places, or just look for the closest brutalist concrete building and I'll be the one taking a million pics of it :)
Best wishes, Clara
9th Nov 2018. We're back in Melbourne for The Big Design Market!
We're returning to the Royal Exhibition Building, Carlton from Friday 30th November - Sunday 2nd December for our last market of 2018. This time we'll have some more pieces from our new collection, plus all the classics.
There will be a different line-up of designer stalls, coffee, food and drinks and it's the perfect time to tick off that Christmas shopping list so you can relax and enjoy the silly season!
Find us: Friday 30th Nov 10am - 9pm, Saturday 1st Dec 10am - 7pm, Sunday 2nd Dec 10am - 5pm.
Visitor info is available at The Big Design Market website and as always, you can stay in touch and follow along on Instagram if you can't make it.
1st Nov 2018. Our 2018 order dates
Jewellery is such a special way of telling someone how much they mean to you...but like all good things, it takes time to create that perfect piece for you! To ensure we have enough time to make your gift before Christmas:
Within Australia: order by 7th Dec for custom-made pieces or 14th Dec for collection / stock pieces.
International postage: order by 16th Nov for custom-made pieces or 23rd Nov for collection / stock pieces.
If you're in Sydney, you can head into my studio-shop Fine Fellow right up until Christmas Eve to collect your order or see what we have. Simply enter the code 'COLLECT' at checkout and we'll email you once it's ready.
12th Oct 2018. Visit us at The Finders Keepers Design Event!
We're coming to Melbourne for The Finders Keepers from Friday 19th - Sunday 21st October, at the Royal Exhibition Building, Carlton. Clara will be there to show you her collection, discuss custom pieces and answer any questions you have about jewellery making, running (two) creative businesses and why she loves brutalist buildings so much!
We'll be there: Friday 19th Oct 12pm - 9pm, Saturday 20th Oct 10am - 7pm, Sunday 21st Oct 10am - 5pm.
Check the FindersKeepers website for more info (including entry fees), and if you can't make it, follow our roadtrip on Instagram and get in touch via email any time.
*Please note that while Clara travels, the studio and shop Fine Fellow will be closed from Wednesday 17th - Tuesday 23rd October. However you can still order from our respective online shops during this time and Clara will process all orders on her return.*
1st Oct 2017. Click+Collect is now available for local orders
For Sydney orders - we now offer a pick-up/in-store collection service, to save you shipping costs and packaging waste. Simply enter the code 'COLLECT' when you order, and we'll notify you by email once your order is ready instore. Most items from the collection will be available 1-3 days after ordering.
Our shop 'Fine Fellow' is located on Foley Street in the heart of the Darlinghurst creative precinct, a hop off Oxford Street and about 15mins walk from Sydney's CBD. We're surrounded by a myriad of local boutiques, excellent coffee and unique small bars, so why not make your visit a day out in the 'hood? We also have a photography studio and a selection of fine Australian-designed men's goods.
Find out more and check our opening hours on Fine Fellow's website.
Fine Fellow: 11 Foley Street, Darlinghurst, New South Wales 2010.
27th Apr 2017. Our new retail, studio + event space is open!
After a long wait, Fine Fellow has finally moved into its permanent home! The concept space is a collaborative project between Burton Metal Depository and Men In This Town.
Our retail space carries unique, Australian-designed goods with a masculine edge, and is home to Burton Metal Depository's Sydney workshop. Behind the shop, our photography studio caters to photoshoots and small-scale productions. We have loads of collaborations and classes lined up with local businesses, the first being our house warming and #onfoley crawl! Visit our events page for your invitation.
You can visit Fine Fellow at 11 Foley Street, Darlinghurst NSW 2010 and online at finefellow.co .
Our opening hours are: Monday - Wednesday 11am-6pm, Thursday -Friday 11am-7pm, Saturday - Sunday 10am-5pm.
*Consultations with Clara are by appointment, between Wednesday - Sunday. Email: contact[at]burtonmetaldepository.com or phone: +61402858828.
9th Feb 2017. A Fine Fellow Pops Up!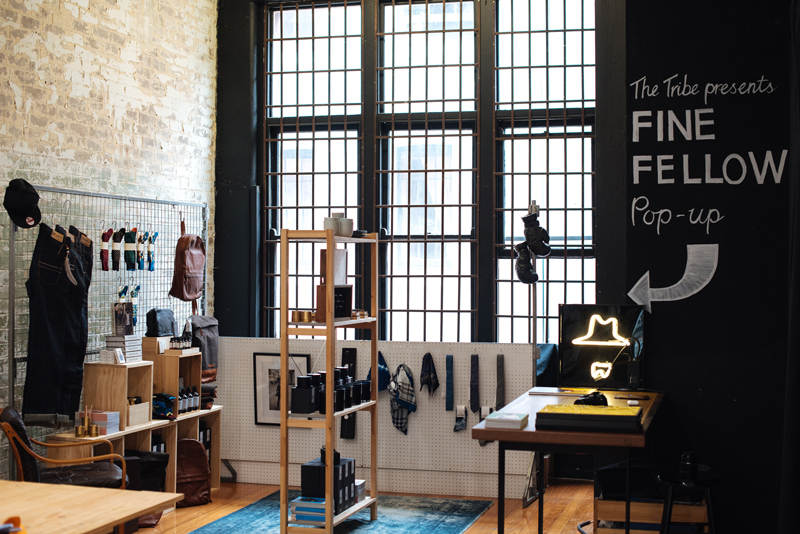 FINE FELLOW, my 'brother business' with Giuseppe Santamaria (founder of Men In This Town) has another pop-up space in Sydney's Darlinghurst! We've curated a selection of the highest quality products for the modern man, all designed by emerging Australian labels. We have minimalist homewares, geometric-patterned socks, all-natural grooming products and of course Burton Metal Depository jewellery and accessories, plus much more!
We're moving to our permanent home soon, but in the meantime you can get a preview at our pop-up store with our friends, The Tribe.
Find us at the back of 'The Tribe': 70 Oxford Street, Darlinghurst NSW 2010 from now until 6th March.
Our opening hours are: Mon-Fri 11am-6pm, Thurs 11am-7pm, Sat 11am-5pm, Sun 12pm-4pm.
I'd love to meet you for a jewelry appointment here, just send me a message to organise a time.
Visit the Fine Fellow homepage.
23rd Dec 2016. Holiday Closure Dates
Happy holidays everyone! Our studio will be closed from 23rd December to 5th January, but you can still place orders and chat with us via email (orders will be processed and shipped after the 5th Jan).
Wishing you all the best for a wonderful festive season!
16th Nov 2016. Introducing BMDX: Our Complimentary Ring Exchange Service
Thinking of giving someone a customised piece of jewellery? Great idea!
This is one of the most personal and treasured gifts you can give. However, we understand it can be difficult to get it right sometimes, even with that special someone. When a ring is custom-made, it's created from scratch, exclusively for your loved one. As a result, we can't refund it if it's been ordered in the wrong size or you've changed your mind - which is why we offer our BMDX service on all our collection rings.
Basically, this means you can confidently purchase any standard sized ring from our online shop, knowing that if it's not the right size, you can exchange it down the track for one that's made exactly to size, for no extra cost.
How do I use BMDX?
Purchase a ring from our online collection and select the 'standard size' from the product page.

Surprise your loved one with their gift!

If it's not the right size, get in touch within the next 2 weeks and return the ring to us.

Tell us the correct size, and we'll have your new, custom-made ring ready within 2-3 weeks.

After receiving their gift, the recipient can also decide if the style and material is right for them, and make adjustments if they like. We can even discuss nitty gritty details like curved edges and gems with them at this stage (additional costs may apply).
Taking advantage of our BMDX service is a good way to avoid the expense and time of re-sizing or re-making a customized ring.
If you'd like more information about ring sizing, or our returns policy, take a look at our FAQs. Want to discuss your custom jewelry options? Contact Clara here.
7th Nov 2016. Christmas Gift Ordering Info for 2016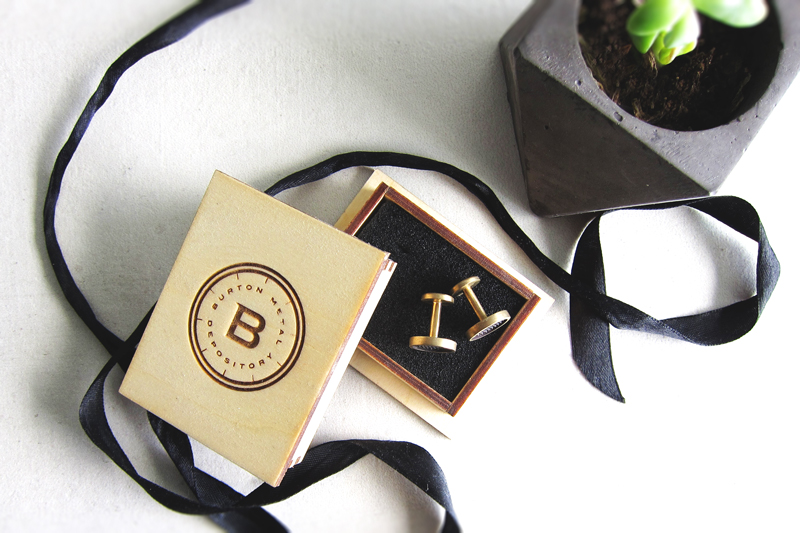 It's a busy time for Santa and us, so to make sure you receive your gifts in time, plan ahead and take a look at our order cut-off dates!
For COLLECTION pieces (anything 'as is' from the online shop)
For delivery in Australia: Order by 12th December
For express delivery in Australia: Order by 18th December*
For delivery overseas: Order by 1st December

For CUSTOM-MADE pieces (one-off designs, variations, custom sized rings and engraved pieces)
For delivery (express & regular) in Australia: Order by 30th November*
For delivery overseas: Order by 20th November

If you want more information, head to our FAQs and check our product pages for processing times, or contact us.
*Check if your area is covered by the Australian Express Post Network here.